Mirage Means... Top Quality Products



Sejak Mirage adalah lapangan rumput sintetis pertama, kita memiliki produk unggulan. Kami bekerjasama dengan mitra kami di desain pabrik dan pengawasan mutu adalah hal yang paling penting bagi kami. Ketika pelanggan membeli integrasi Mirage Green, Anda dapat yakin bahwa Anda mendapatkan yang terbaik. Anda akan menemukan kualitas terbaik bahan sintetis putting green.

Since Mirage was one of the first synthetic putting green companies, we have the "edge" on great products. We work closely with our mill partners on design, and quality control is of utmost importance to us. When customers buy a Mirage Putting Green, you can be sure they're getting the best, top quality synthetic putting green material you can find.
High Quality Turf... Turn Your Backyard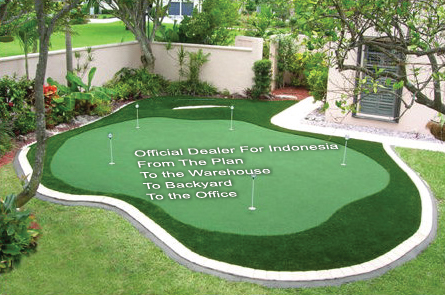 Rumput terdiri dari berbagai jenis buatan polypropylene dan serat nilon yang dikembangkan di Georgia. Setiap serat telah dibuat untuk berdiri secara alami dan hampir tidak ada biji-bijian, sehingga memungkinkan bola menggelinding cara yang sama di segala penjuru. Rumput tahan terhadap cuaca dan tahan dingin yang paling ekstrem musim dingin pada hari-hari musim panas hangat. Juga UV dilapisi, untuk menetapkan intens hijau untuk menahan sinar matahari dan unsur-unsur lain yang berkaitan dengan di luar rumah. Mirage bekerjasama dengan pengelolah wilayah atau daerah dikembangkan untuk menjamin "ideal" untuk Anda menempatkan halaman belakang yang hijau. Ini perhatian pada detail yang baik dari awal sampai akhir untuk memastikan bahwa Anda akan memputting green yang paling nyata, bebas pemeliharaan.

The turf is comprised of different types of man-made polypropylene and nylon fiber developed in Georgia. Each fiber has been manufactured to stand up naturally and has virtually no grain, therefore allowing the ball to roll the same way in all directions. Turf is weather resistant and made to endure the coldest extremes of winter to the hottest summer days. It is also UV-coated, allowing the putting green to withstand intense sunlight and other elements associated with outdoor use. Mirage works closely with landscapers or previously developed areas to ensure the "perfect fit" for you backyard putting green. This attention to detail from start to finish ensures that you will be putting green on the most realistic, maintenance free.